For 60 years, Slovenia based Élan skis quietly delivered some of skiing's greatest innovations. But the Elan brand had lost its edge and wasn't top of mind with consumers. We were thrilled when Elan asked us to help them makes some noise in the category.
We launched an integrated campaign for Elan with a series of brand building magazine ads in top skiing publications. Our ads talked about Elan's long tradition of skiing innovation in a way that was anything but traditional. Our ads got skiers' attention and reinvigorated the Elan sales teams.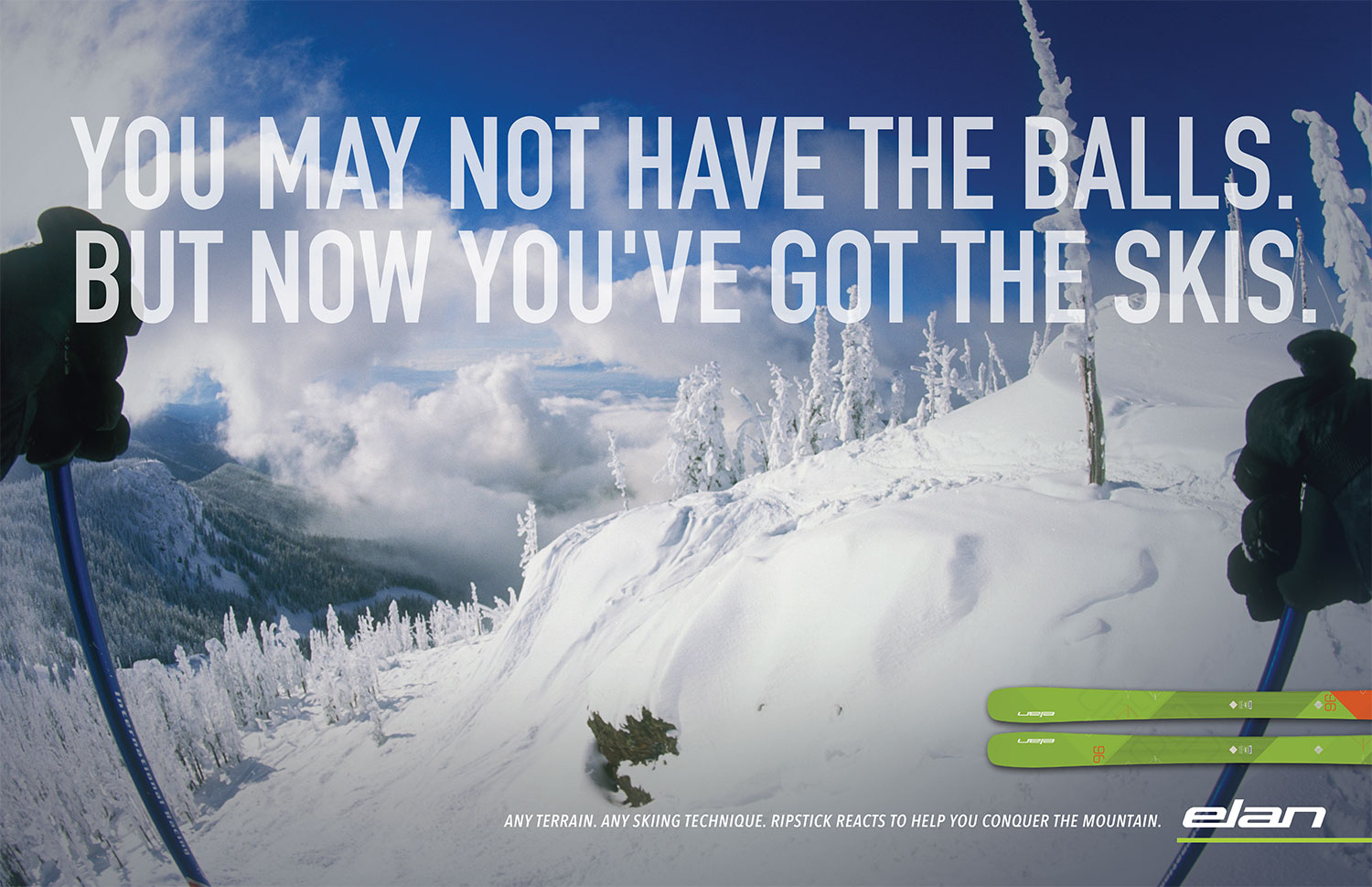 Elan's revolutionary new ski, the Ripstick, is engineered with a TubeLite Woodcore, VaporTip inserts, advanced composites, and SST sidewall construction. We translated this ski technology into a clear benefit and expressed it in a way that not only got skiers talking, it got them stealing our poster right out of the ski shop.
We knew if local ski shop employees, who were hardcore skiers themselves, loved Elan's new Ripstick ski, they'd recommend it to their customers, tell their friends and talk about it in their social networks. So, we sent ski shop employees a cool, all-black version of the Ripstick, before its public release, and asked them to try it and tell us what they thought, by uploading a video to our custom Ripstick microsite. For doing this, they'd be entered to win a trip for two to Slovenia (home of Elan) where they'd get to create their own custom pair of skis, ski the amazing trails at Vogel, and stay in the picturesque resort town of Bled at the foothills of the Julian Alps.
The culmination of our Ripstick program was a VIP party at Copper Mountain hosted by legendary skier and Elan brand spokesman Glenn Plake. We promoted the event on various social channels and leveraged Glenn and the power of his social following to also help promote our sold out event before, during and after. We created social posts throughout the party to keep Elan fans updated on the Ripstick sweepstakes, product demonstrations, and music performances. In the end, this Boston advertising and PR agency's integrated rebrand for Elan improved brand awareness and helped improve sales.