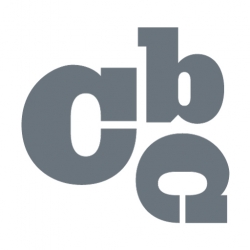 Moments after the Paris attacks were reported the night of Friday, November 13, Twitter, Instagram, and Facebook were flooded with messages and images in response to the atrocity. Reflection, prayer, disappointment, and anger were all seen throughout the digital space. Facebook soon offered users an option to overlay a French flag on their profile picture in support of the French.
A particular image, however, was soon showing up online more than any other. It's a rough watercolor sketch of the Eiffel Tower bisecting a circle: a simple representation of peace for Paris, and a depiction of the tenacious hope and optimism felt throughout the world.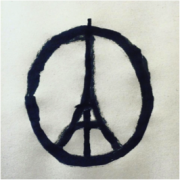 Its creator is 32-year-old French designer and illustrator Jean Jullien. In an interview with Wired, Jullien stated that he began the sketch moments after hearing about the attacks and that "It was done on my lap, on a very loose sketchbook, with a brush and ink…I didn't do any sketches…It was more an instinctive, human reaction than an illustrator's reaction."
The sketch, posted to Jullien's Twitter, Instagram, and Facebook, went viral. As of November 17, his posts have received:
Twitter: 60,000 re-tweets and 45,000 likes
Facebook: 28,552 shares and 24,518 likes
Instagram: 166,000 likes and 3,692 comments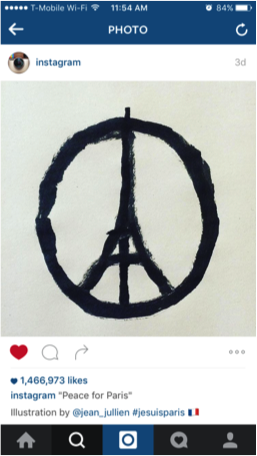 Instagram posted the image to its own account on Friday, receiving over 1.4 million likes.
These statistics, however, don't take into account the immense number of shares and posts that used Jullien's art through a screen-shot or after personal editing, whether credited or not.
In stark contrast with recent battles about accreditation of content on social media, Jullien was happy to have people around the world editing and recreating his work or using it on shirts—with or without credit: "The fact that people shared it and used it, well, in a way that's all for the better. It's an image for everyone. It's a communication tool…"
In an Instagram post, uploaded Monday morning, Jullien thanked the world for their messages of support for Paris. He iterated that he created the image for Paris, for the victims, and for their families. "It's a sign for everybody to share and show their support and solidarity," he says. "It's a peace sign for all the other cities and countries around the world affected by such nonsense and violence…"
If there's any question about the influence of social media within our global society, this weekend and the aftermath of the Paris attacks were unfortunate indications. Jean Jullien himself is a selfless reminder that social media is not always about promotion, sales, or getting the most engagement; sometimes, a simple message unites us all with the best of intentions.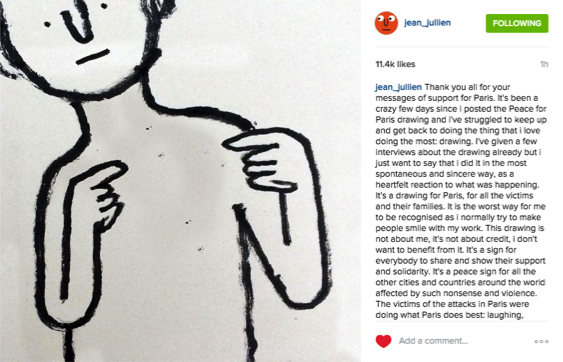 https://cerconebrown.com/wp-content/uploads/2018/06/CBC-Favicon-e1626169648183.jpg
250
250
cbc08
https://cerconebrown.com/wp-content/uploads/logo-png-300x300.png
cbc08
2015-11-17 23:56:23
2015-11-17 23:56:23
Content without Borders