3 Ways Experiential Marketing Can Rejuvenate Your Luxury Brand
The world of marketing is changing for luxury brands, irrespective of size or industry. From fickle consumer taste and the rising power of social media influencers, to major acquisitions and luxury-mass collaborations, the need for a strategic, creative, and multi-tiered marketing strategy is more critical than ever. Our favorite tactic for disrupting the industry status quo? Experiential marketing. 
Feeling inspired? You don't need to be one of the "big guys" to host your own experiential campaign. Download our handy experiential marketing checklist to help you strategize. Enter your email address and we will send you a PDF of our Experiential Marketing Tactics Checklist.
Wondering what experiential marketing for luxury brands looks like? What objectives can an experiential marketing event serve? Keep reading for a look at how CBC and others leverage unique brand events to achieve key business objectives:
Objective #1: Experiential Marketing to Drive Sales and In-Store Traffic
It's been a headline for years now: brick-and-mortar retail is dying by way of ecommerce. For high-end brands—especially fashion—this can be problematic. For ages, a key point of differentiation for luxury retailers was their high-touch service. While the internet has come a long way, it still remains difficult to bring this kind of personalized approach to the masses online.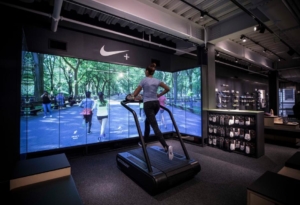 Experiential marketing can help bring customers into stores by creating a one-of-a-kind brand experience that gets customers excited to visit. They can take shape by way of a standing feature, such as Nike's flagship store in New York City. The store looks to capture foot traffic from athletes and basketball fans with unique in-store offerings. With attractions such as a colorful display of the history of Air Jordans and a full size basketball court for visitors to test their footwear on, Nike regularly gives consumers a reason to shop in-store. 
Not every brand has the money to build a full-time experiential store. For smaller or niche brands, pop-up stores can be a great tool for generating foot traffic. Take our work with Garnet Hill, for example. For a long time, Garnet Hill succeeded in driving purchases through their catalogue. As direct mail became dated, they looked to CBC to increase brand recognition and sales with experiential marketing. We got creative and refurbished an old shipping container to create a beautiful pop-up mobile boutique that caught customers' attention and changed their perception of the long-standing fashion retailer. Which brings us to…
Objective #2: Luxury Experiential Events to Change Brand Perception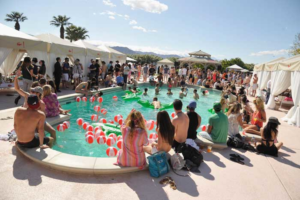 Old habits—and impressions—die hard. As they say, seeing is believing, which is why experiential marketing for luxury brands is key to changing historical brand perception. Going back to Garnet Hill, by bringing their catalogue to life through a trendy pop-up boutique in the Hamptons, we were able to shift consumers' idea of the brand from a nostalgic memory to a modern 21st century brand.
Another luxury brand that leveraged a brand activation to change consumers' ideas of the brand is Lacoste. As fashion began to stray away from logos and traditional brand names, Lacoste looked to reach younger audiences like Millennials and Gen Z by showing that it's "hip" to the latest trends. To do so, they threw a celebrity-filled pool party at Coachella. The pool party featured a pop-up store, DIY sneaker station, and Lacoste-branded giveaways, in addition to a star-studded guest list. The result? Some of the biggest influencers wearing and carrying Lacoste's latest line and promotional products.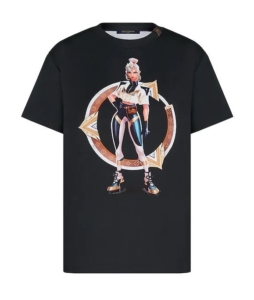 Taking it one step further, Louis Vuitton recently announced it'll be making an appearance at video game League of Legends' World Championships. With designer tournament outfits and trophy carrying case in tow, the high-end label clearly understands the power of events in reaching new audiences and shifting consumer perception. As the world of esports is estimated to reach $1.4 billion by 2020, Louis Vuitton is putting their name in the hat to win over these new audiences with their experiential marketing campaign.
Objective #3: Luxury Experiential Marketing to Create Long-Lasting Brand Advocates
Loyal brand advocates are a marketer's best friend. Incredible ROI is almost guaranteed when you have consumers who live and breathe the brand and talk about the brand regularly amongst their network. 
2019 saw marked emphasis in this space as many luxury brands looked to experiential marketing to solidify their foundation of ardent followers. For example, SoulCycle, the popular high-end cycling studio, launched SoulCycle retreats to bring its cult following of cyclists off the bike and into a SoulCycle-themed vacation focused on wellness, adventure, and community.
Following suit, Equinox, the luxury gym chain, opened its first 5-star hotel this year. Catering to its clientele of wellness-obsessed customers, Equinox turned experiential marketing into a new business line, claiming its spot as the go-to source for everything wellness and fitness. Similarly, in 2018 YSL opened a beauty hotel for its most dedicated fans to book. Featuring perfume workshops, makeup counters, a branded cafe, and in-hotel collections of its most famous lines, fans of the luxury fashion and beauty brand are guaranteed an experience that keeps YSL top of mind for a long time.
At CerconeBrownCompany, luxury brand experiential marketing is our thing. Check out our capabilities and some of our most recent experiential brand work.
Feeling inspired? You don't need to be one of the "big guys" to host your own experiential campaign. Download our handy experiential marketing checklist to help you strategize. Enter your email address and we will send you a PDF of our Experiential Marketing Tactics Checklist.