For the last seven years, Coca-Cola's "Open Happiness" campaign provided a mantra that connected the brand and its consumers in a remarkable way. With clever ad approaches and recognizable exposure, Coca-Cola established a movement that associated the brand with philosophical and psychological happiness. But with the attention on the brand itself for nearly the last decade, Coca-Cola recently saw fit to put focus back on the products and get its consumers to re-commit to the brand's actual beverage offerings.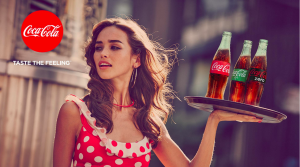 [Source]
Coca-Cola's new campaign "Taste the Feeling" was released last Tuesday with an abundance of new print and video advertisements to refocus Coca-Cola's consumer base on the actual product in the bottle: that sugary sweet good stuff we all love to love.
The "Taste the Feeling" campaign, using their 'One Brand' strategy, has a very direct goal: to connect the Coca-Cola brand on a global level. While stressing the global campaign, Coca-Cola will strive to reinforce the notion that consumers choose Coca-Cola products – across all of its trademarks – based off of their preference and lifestyle choices.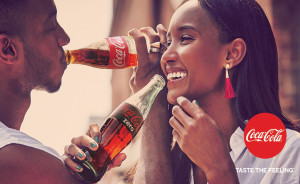 [Source]
The company intends to encourage consumers that their lifestyles already align with sugary Coca-Cola products, but in doing that, one can't ignore how the global shift to healthier lifestyles puts a strain on Coca-Cola; while they are a completely successful brand, they're fundamentally ignoring the bigger picture. Although the company offers 'smarter' lifestyle choices, the consumer base is still looking for a more revolutionary product that supports the movement to living a healthier life. Can the 'One Brand' strategy and the "Taste the Feeling" campaign serve to reconcile that gap between lifestyle and preference?
Whether you see it as a futile quick-fix, or as the tip of an iceberg that represents a huge step soda makers must one day take, with its new approach, Coca-Cola is ready to take you back to your special moments and remind you of the feelings associated with one of the world's most beloved drink brands. The full set of "Taste the Feeling" television ads can be found on Coca-Cola's YouTube page, but you can check out one of the commercials, which covers Queen and David Bowie's song "Under Pressure", below!
https://cerconebrown.com/wp-content/uploads/2018/06/CBC-Favicon-e1626169648183.jpg
250
250
cbc08
https://cerconebrown.com/wp-content/uploads/logo-png-300x300.png
cbc08
2016-01-26 16:02:10
2016-01-26 16:02:10
Coca-Cola's Big Campaign Sends a Sweet New Message