Did you know an average Instagram user misses 70% of the content in their feed? Since the implementation of feed algorithms, Instagram Stories have become an essential tactic for brands to ensure they are actually reaching their Instagram audience.
Some brands have perfected Stories and are using them to broadcast live events, share visual content, or leverage Instagram Story ads to drive site traffic. Let's take a look at three brands who we feel have optimized their Instagram Story strategy to achieve their goals.
MADEWELL
The denim and apparel brand prides itself on being artful, cool, effortless, and unexpected. It comes as no surprise that its approach to Insta Stories reflects this mindset.
1. Madewell thinks about Stories in a series rather than just one image. This is an example of Madewell's holiday gift guide, tempting the audience to click-through until the end and expose itself to more products.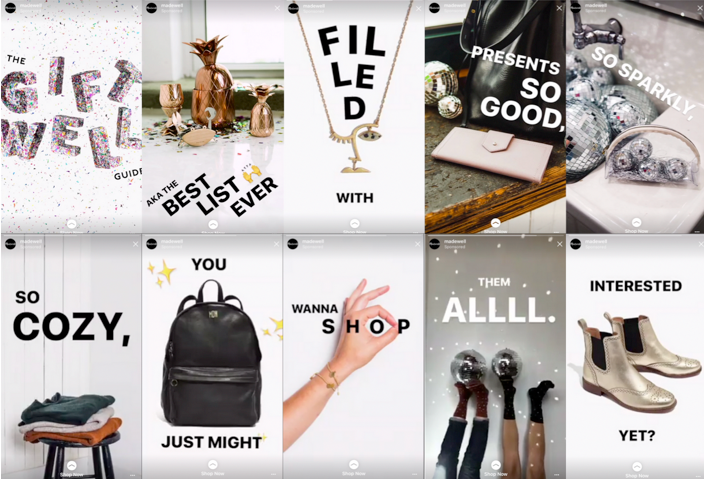 2. Here the brand is adding Stories to the "Highlights" bar on its profile. This keeps the content viewable longer than the normal 24 hours and pins it to the top. A great way to create more visibility for a new collection or seasonal items.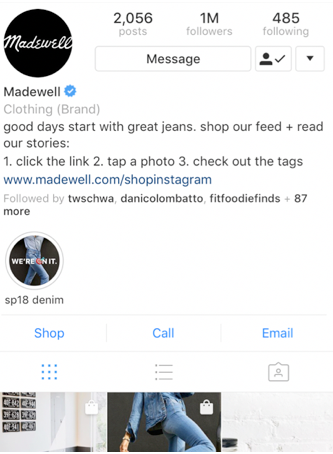 3. They utilize a shop instagram link accessible via swipe-up in their Stories or in the bio. Viewers can shop their Instagram content whenever they'd like – which is a total win!

APARTMENT THERAPY
Apartment Therapy is a lifestyle blog and publisher focused on home design and décor. Its use of Stories reflects purpose in a simple, refined way.
1. Simple is always better. The simple text over the photo provides context without complicating it. Insta-addicts who are constantly tapping through their Stories don't want content that doubles as a brain teaser. Digestible, Visual, and Informative.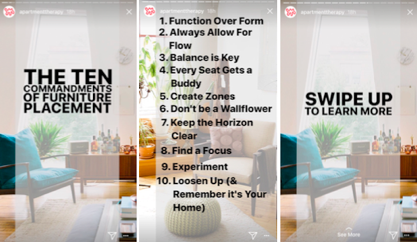 2. Swipe-up for success. Through Stories, viewers have quick access to referenced web content on ApartmentTherapy.com. Other brands should be using Stories to drive traffic to their own blog content as well. Viewers are more likely to swipe up and visit the brand site when it's suggested and easily accessible.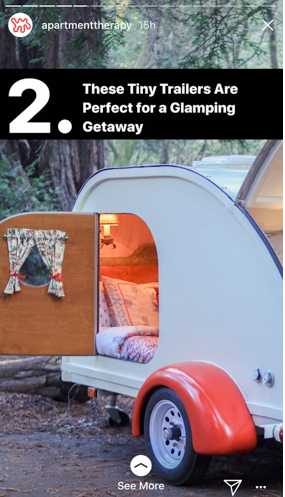 ANTHROPOLOGIE
Anthropologie is a women's clothing brand built on the pillars of creativity, free spirit, and design. This is how the brand was able to stay in touch with its target audience and express that free-spirt lifestyle via Instagram Stories.
1. On its Instagram Stories, Anthropologie designs their content for the appropriate vertical specs. The creative is careful to leave space near the top or the bottom, so as not to interfere with the account icon, exit icon or sharing icon. If you don't plan for spacing, the content looks cluttered and unappealing.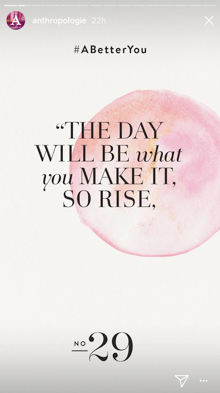 2. Time-sensitive content goes directly to Stories. In releasing its new arrivals, the brand skipped the static posts and went right for Stories. This move is an easy way to spread news to a larger audience and provide the CTA and link to shop right there.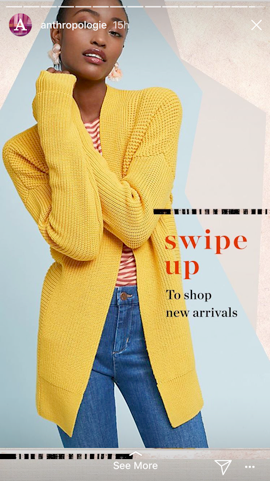 3. Videos are distributed via Stories. Videos are a natural thumb-stopper on Instagram, encouraging the viewer to stop the mindless clicking and actually view the content. So live footage from events or vertical video footage can be great to leverage in your Stories.
At CBC, we are utilizing our Instagram Stories to showcase what makes us unique. During our recent HOUSE destination experience in Deer Valley we made sure to share our journey eating, drinking, and skiing through Park City, UT via Insta Stories. To create a story that was interesting to our Instagram audience, we curated our favorite local spots into a Deer Valley travel guide. Pictures and captions were kept simple and we applied the new font feature to make sure our text stood out.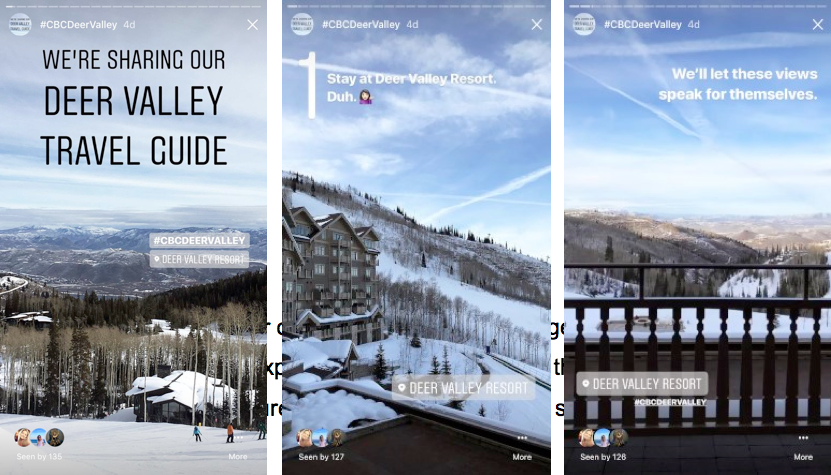 With all the content clutter on Instagram, Stories are getting more important to leverage for your brand exposure every day. So take the time and learn how to leverage them to make sure that your content is both seen and engaging.
Have any tricks for Stories up your sleeve? Or need help with your own social media strategy? Drop us a line or tweet us @cerconebrown.
https://cerconebrown.com/wp-content/uploads/Blog-InstagramStories-800x1000.jpg
1000
800
cbc08
https://cerconebrown.com/wp-content/uploads/logo-png-300x300.png
cbc08
2018-02-12 14:34:27
2018-02-12 14:34:27
What's the Story with Instagram Stories?