CBC HOUSE connects top-tier journalists with unforgettable brand experiences in settings that are both true to those brands and unforgettable for those who attend. And, at CBC's Destination Experiences, we not only paint a beautiful picture of each city, but to give press a lasting impression of the culture, tone and rhythms of these unique destinations.
CBC SIDEBAR is our content production studio that uses these aspirational houses across the country to shoot content for your brand. Mouse over the calendar below to see where SIDEBAR Studios will be in 2018 so you can start planning your content needs with us.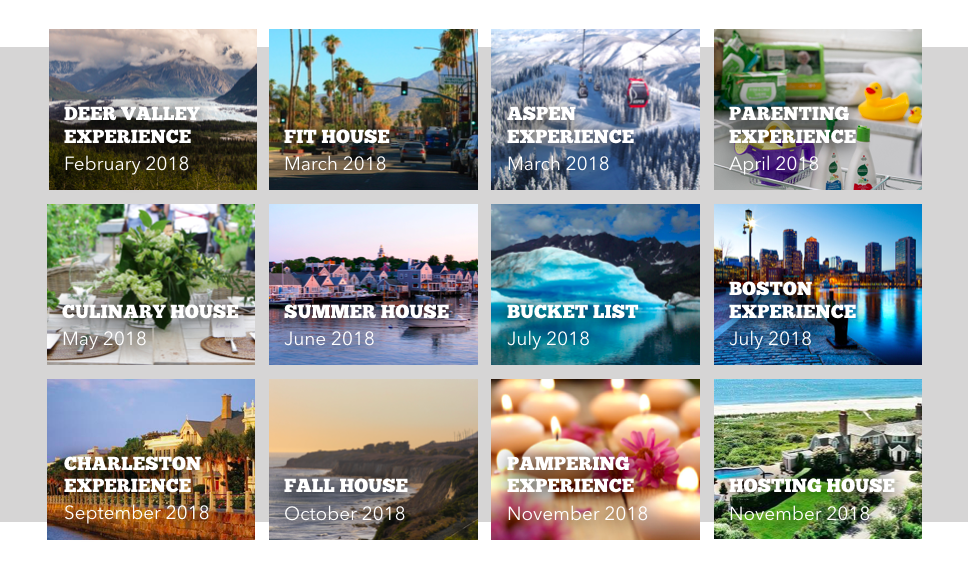 1
SIDEBAR Content Production available in Sonoma, CA
2
SIDEBAR Content Production available in Nantucket, MA
3
SIDEBAR Content Production available in Santa Barbara, CA
4
SIDEBAR Content Production available in the Hamptons
DEER VALLEY EXPERIENCE | Park City, UT | February: Explore and discover all that Deer Valley and Park City have to offer, from days on the slopes 
to nights, exploring the local breweries and distilleries.
FIT HOUSE | Palm Springs | March: A California retreat all about the best new brands in the healthy lifestyle space, press will experience everything from mountain biking to smoothie sipping.
ASPEN EXPERIENCE | Aspen, CO | March: The best of the active, adventurous and idyllic city. From first tracks on some the most iconic mountains in the country, to après ski at world-renowned restaurants, the program highlights every aspect of a quintessential Aspen vacation.
PARENTING EXPERIENCE | NYC | April: At the Parenting Experience, press can quickly cut through the clutter with hands-on play; tasting and testing the latest products to make life happier and easier.
CULINARY HOUSE | Sonoma, CA | May: Here, every meal tells a story. Editors will pick, whisk, chop, bake, sauté and 
(of course) eat and drink their way through a culinary escape.
SUMMER HOUSE | Nantucket, MA | June: Our days start with oceanside runs and end with the perfect sunset drinks. We hoist sail on fabled Nantucket Sound, bike endless island roads under white-cloud dappled skies, and explore the cobblestone streets all while testing out summertime gear for coastal living.
BOSTON EXPERIENCE | Boston, MA | July: Uncover 
all the historical charm of Boston. From walks along the freedom trail and 
tours of Fenway Park to dinners with award-winning chefs, experience what hometown pride truly means.
BUCKET LIST HOUSE | Alaska | July: New in 2018, we will travel to Katmai National Park in Alaska's Aleutian panhandle. Famous for its bears' rare ability to poach salmon in mid air, lava flows and wild tundra, Katamai is even Alaska's last frontier. 
We'll hike glaciers, kayak fjords, and fly fish just steps from our lodge.
CHARLESTON EXPERIENCE | Charleston, SC | September: Explore the historic charm 
of this culturally rich city, rooted along the Atlantic coastline. From horse drawn carriage rides through downtown, to dinners created by world-renowned local chefs, see how southern hospitality that makes Charleston so alluring.
FALL HOUSE | Santa Barbara, CA | October:  Just steps from the peaceful Pacific shore, days start with fresh fruit from the local farmer's market and yoga on the beach. Afternoons are filled with bike rides and volleyball, warm ocean breezes and delicious wine tastings. All with the peace, balance and fun you'd expect from one of the most beautiful places in the country.
PAMPERING EXPERIENCE | NYC | November: An event where the press can experience your beauty product. Whether that's a  massage with a new lotion, a facial with a new skincare line, new bra shaping technology, a new nail polish color, a blow out with your shampoo and conditioner… the list goes on.
HOSTING HOUSE | Hamptons, NY | November: Highlighting the best products in home décor, entertaining, dining, and gifting, the Hosting House leaves editors with a lasting impression as they enter into the holiday season.