What is a Social Media Marketing Funnel?

Table of Contents
1. What is the Social Media Funnel?
2. Why the Social Media Funnel Matters
3. An Example of How the Social Media Funnel Works
4. How the Social Media Funnel Can Inform Paid Social
5. Tactics and Strategies for Every Phase of the Social Media Funnel
6. How to Measure the Social Media Funnel
If you're at all involved in the branding or promotion of a company, you've likely heard of the marketing and sales funnel. The marketing and sales funnel, sometimes called the purchase funnel, was developed at the end of the 20th century to illustrate the customer's "journey." This customer journey is one of the most critical pieces of the marketing puzzle to solve; a bad journey can equate to a bad customer experience.
This same funnel can be applied to social media marketing. By understanding how social media can engage users at every stage of the funnel, you can better craft a strategy that creates a thoughtful user experience and, in turn, generates results that meet both social media and business objectives.
The Social Media Marketing Funnel: Definition
The social media marketing funnel is a concept that describes the stages of a customer's engagement with any business' social media channels. While there is no universally accepted funnel, at CBC we view these four phases to be the key steps in any user's journey with a brand on social media: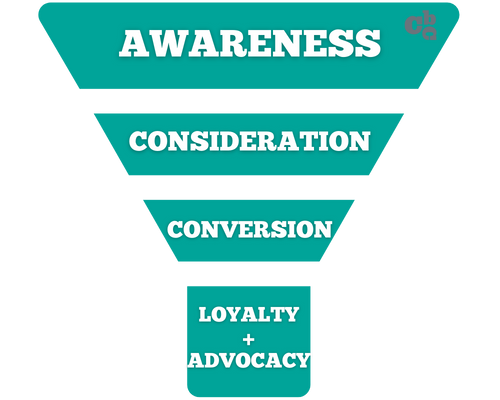 Awareness: The stage in the social media marketing funnel where a user is exploring new content and brands in search of answers to a question, problem, or curiosity. For example, this top-of-funnel stage could consist of a user intentionally seeking out a specific product category in social media search where they find your page, or a user being tagged in a post from your feed where they stumble across your content.

Consideration: This is the stage in a social media marketing funnel where a user has found your brand or post and expresses potential interest. A user who engages with your brand, whether by following your company page or liking a post, would fall into the consideration phase. They're aware of the brand, but are now gathering more information on who you are, what you offer, and whether it is right for their wants and needs.
Conversion: The stage in the social media marketing funnel where a user completes a desired action and enters the brand's ecosystem. Conversion is most often a purchase but could also be an email sign-up, free trial redemption, or booking a product demo. What qualifies as a successful conversion will vary depending on your line of business and goals.
Loyalty + Advocacy: This is the stage of the social media marketing funnel where a user is not only a customer, but a brand superfan. These users not only follow, engage, and buy from your brand, but also repeatedly interact with your company and are willing to vouch for your quality, service, or other business attribute. Users who enter this bottom-of-funnel stage will take actions such as leaving a positive review in the comments, sharing content from the brand to their personal channels, posting about the brand on their owned channels (user generated content), or referring other users to a brand's social media pages.
Why the Social Media Marketing Funnel Matters
Understanding the social media marketing funnel is critical when it comes to shaping and driving digital strategy. Today, there are nearly 4 billion people worldwide using social media and the average person spends 95 minutes per day on various social channels – the highest average we've seen recorded today. 
Undoubtedly, social media is a critical piece of your marketing program. A thorough understanding of the social media funnel, combined with a careful analysis of your brand's funnel, will allow you to uncover what your company must do to influence users at every stage. For example, if you're gaining a lot of followers each month but struggling to convert, you may realize you're failing to provide necessary information or motivation for users in the consideration phase.
Furthermore, if you're not using the social media funnel to strategize for your social channels, you could be missing opportunities to enhance your social media marketing program by:
Failing to collect a deep understanding of your customer and what drives action amongst various audience segments

Neglecting to create types of content that move users to the next phase of the funnel; if you're not following their journey, how will you know what's effective?

Losing the ability to quickly pivot tactics and strategy when funnel milestones are falling short of expectations; measuring solely top and bottom of funnel metrics leaves room in between for users to fall off.
We've found that brands that don't utilize the social media funnel to drive strategy often focus too much attention on the awareness and conversion phases of the social media funnel where, in reality, nurturing users throughout the entire funnel is what creates brand evangelists and long-lasting ROI.
Example of How the Social Media Funnel Can Work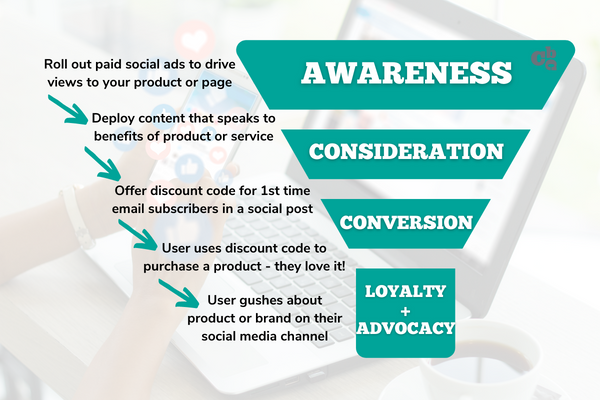 To illustrate an example of how the social media funnel may work, let's walk through an example for a B2C brand selling a tangible product.
Awareness:

A brand runs paid ads on social media highlighting their latest product. This ad brings a user to their brand page where they decide to follow.

Consideration:

As a follower, they begin to see a variety of content from your page over the course of a few weeks. They've learned what the brand's product can offer through a series of social media posts discussing the benefits, use cases, and unique differentiators.

Conversion:

One day, they see a brand post that offers a 10% discount code for first-time email subscribers. This user has been following the brand page and content for awhile now and, with this exclusive offer, feels the time is right to buy. They click the link in your post to sign up for your email list, receive the discount code, and purchase the product through your website.

Loyalty and Advocacy:

The user has received the product and they love it! They enjoy the product so much that they go to their own personal Instagram Stories and post a photo of the product with a testimonial as to why the product is so great.
How the Social Media Funnel Can Inform Your Paid Approach
While the social media funnel can help brand teams create and source effective organic content and engagement strategies, it can also help inform paid social media campaigns.
Today's online advertising landscape is sophisticated and well-suited to rely on the social media funnel. With the right technology and systems in place, your brand can see in real-time how many users are at each stage of the funnel and what content is driving them to take the next step.
Looking at the social media funnel through a paid media lens, your brand's approach could look like:
Awareness:

You run a paid campaign featuring a brand sizzle reel with the goal of impressions to reach the largest audience possible.



Consideration:

Simultaneously, as you gain impressions on your awareness-focused ads, you begin to retarget these ad-viewers with new ads that focus on benefits, use cases, or show influencer and/or customer testimonials.



Conversion:

With enough social media impressions of your ads, you can now retarget users who have viewed and/or engaged with a previous ad with a timely offer. You've likely seen examples of this in your own personal social channels through messaging like "You left this in your cart," "Claim your exclusive offer today," or "Almost sold out!"
Loyalty + Advocacy:

While this stage of the funnel is not often supported by paid social media, your brand could benefit by targeting this audience segment with advertisements that announce new product launches, sales, or promote your loyalty program. Many social media platforms will allow you to build a targeted audience by uploading your customer list.
Social Media Strategies for Every Stage of the Funnel
How a company leverages the social media funnel in their marketing efforts is dependent on a variety of factors, such as whether they're selling a tangible good or a service, who they're selling to, the lead time for a typical conversion, and resources available.
Regardless of these factors, there are proven strategies and tactics for each stage of the funnel that brands can deploy to encourage users to take the next step:
Awareness
Use video content to reach and engage a larger segment of users.




Run paid ads for organic content (ie. boosted posts) to reach non-followers.

Make sure creative is eye-catching and "stops the scroll."

Focus on creating content that discusses the problems or challenges facing users that your business solves for.




Leverage social media influencers to reach new communities and segments of users

Create content that is easily "shareable." This type of content may include infographics, memes, quotes, or GIFs.
Consideration
Share content that is informational, touting benefits, differentiators, and value.




If you are selling a product, consider creating tutorial content that shows users how your product works.





Share user-generated content and testimonials to help users see how your brand or product could benefit them.




Host "lives" (available on most but not all social channels) where a company expert can answer questions and provide more information on brand offerings.
Conversion
Use content upgrades, "freebies", or other exclusive offers to entice users to learn more about your brand or product – and preferably, get added to your email list. Examples include discount codes, whitepapers, e-books, and free samples.


 

Include

calls-to-action

to shop, book a demo, or sign-up. "If you don't ask, the answer will always be no."

Add urgency to the copy of your posts. For example, "for a limited time," "limited stock available," "time's running out!", or "don't wait " creates a sense of FOMO (fear of missing out) and encourages users to act now.




Run paid social ads that re-target existing followers to bring your brand top of mind.

Consider in-app shopping features, if applicable to your brand, to eliminate friction for users.

Loyalty + Advocacy
Offer exclusive promotions for recurring customers.

Offer giveaways, contests, and other engaging freebies to continue to provide value for followers.

Promote a branded hashtag to collect and share user-generated content to your channels.

Engage with the community! Like and respond to comments and direct messages.

Consider creating a closed Facebook group or other community forum where your brand offers exclusive deals, information, or other value-add activities to keep fans loyal.
How to Measure the Effectiveness of Your Social Media Funnel
In order to fully reap the benefits of a social media funnel strategy, you'll want to set key performance indicators (KPIs) at every stage of the funnel. Which KPIs you measure will be dependent on your line of business and brand goals. Below, we've listed a few metrics for each step in the funnel to consider:
Awareness:

followers, views, reach, impressions, profile visits

Consideration:

comments, likes, saves, shares, link clicks, downloads

Conversion:

email sign-ups, purchases/sales, demos booked, downloads, leads

Loyalty + Advocacy:

comments, likes, shares, mentions, number of branded hashtag posts 
The social media funnel is a valuable tool for any marketer looking to strengthen their social media performance, build relationships with customers, create a superior customer experience, and better integrate social media efforts with business goals.
Evaluating your social media funnel and creating a strategic plan for execution aligned with your funnel is no small task. Need help? CerconeBrownCompany has helped dozens of businesses of various sizes and across industries optimize their social strategy. Contact us for a social media consultation for your brand!
About the Author
Hayley Reissfelder is the Manager of Digital and Content at CerconeBrownCompany, where she works to create high-impact digital marketing strategies that raise brand awareness and drive revenue.
https://cerconebrown.com/wp-content/uploads/4-1.png
628
1200
Hayley Reissfelder
https://cerconebrown.com/wp-content/uploads/logo-png-300x300.png
Hayley Reissfelder
2022-08-22 10:31:27
2023-05-02 16:17:07
What is a Social Media Marketing Funnel?