HOW GLOSSIER'S DIGITAL MARKETING STRATEGIES ARE DISRUPTING THE BEAUTY INDUSTRY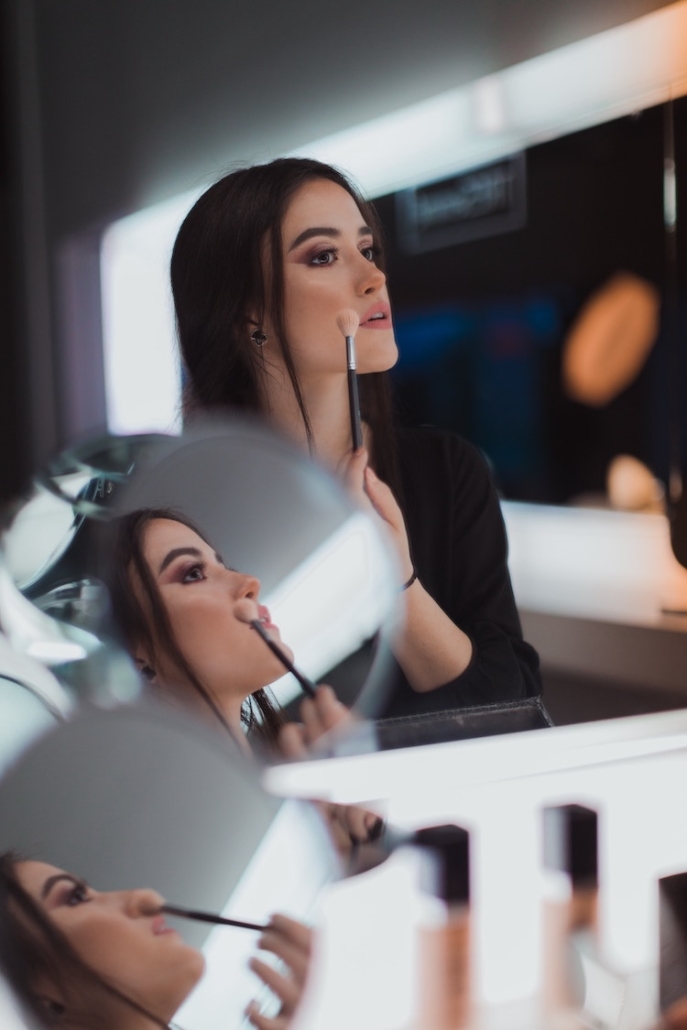 Buyer behavior has been rapidly changing in the beauty industry, transforming every stage of the customer journey from initial discovery to final purchase. Younger generations like millennials and Gen Z have become comfortable with buying beauty products online based on recommendations from YouTube vloggers or Instagram influencers. 
Glossier is a prime example of an online beauty brand that sets itself apart from traditional beauty retailers by embracing new digital marketing strategies for a new age of consumers.
Download: Experiential Marketing Tactics Checklist
Keep this handy checklist to help you strategize. Enter your email address and we will send you a PDF of our Experiential Marketing Tactics Checklist.
Adapting to the Beauty Consumer's (Digital) Lifestyle
Glossier, an online makeup and skincare brand born from "Into the Gloss," an online beauty blog by founder Emily Weiss, labels itself as a "people-powered beauty ecosystem." To develop products, they actively connect with everyday people to create an inventory that today's customer actually wants.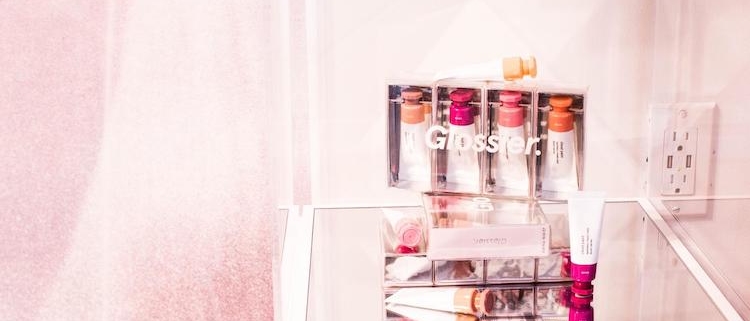 For example, Glossier's first product, the Milky Jelly Cleanser, was formed by asking their first followers what they wanted in a face wash. Today, women want to get ready in under 10 minutes, but still look put together. To help women achieve this goal, Glossier's products revolve around a "no makeup" makeup look, where skincare is the top priority. 
Glossier knows that the opinions of real people matter, not just in product development, but also in marketing those products.
According to Inge Lammertink, "80% (!) of millennials say that they trust a stranger's review on the Internet as much as a loved one's opinion." No longer just relying on recommendations from friends and family, shoppers are just as likely to crowdsource beauty product recommendations from trusted online influencers.
Then, once a shopper has found a product she wants to buy, the online check-out experience makes for a seamless transition. There's no need for a trip to the mall or the drugstore, as you can stock up on makeup with just a few clicks. Consumers have gotten used to doing everything online, and digital native brands like Glossier are able to deliver the experience that matches their lifestyle.
Glossier's Authentic Instagram Aesthetic

In order for brands to remain relevant with digital natives like millennials and Gen Z-ers, they need to produce consistent, high quality content for their digital platforms. 
Glossier's social media content strategy positions the brand as authentic and down-to-earth. By not using overly salesy language, it's as if Glossier isn't a brand, but is just another friend's Instagram account. 
Although Glossier's content marketing team constantly analyzes which hashtags work, which products people are drawn to the most, and every individual post's performance, the brand's feed doesn't feel overly calculated. Instead, it feels consciously authentic, which really resonates with the brand's audience. Before Glossier even launched their website, they had already garnered over 13,000 Instagram followers and had posted over 120 photos that showcased who they are and what they're all about. 
Glossier has also nailed down a distinct look for their content marketing efforts. Glossier's pink is easily recognizable across the world, playing into an aesthetic that appeals to a social media obsessed generation. 
Since Glossier's products are so "Instagrammable," customers are likely to post pictures of the products just because they want to. When Glossier opened their second physical location in LA, they purposely made the entire store fit Instagram's aesthetic, so that customers couldn't help but to share pics from their shopping experience on Instagram and tag the brand. User-generated content (UGC) allows Glossier to benefit from free advertising, no longer just selling to customers, but selling through customers. 
How Glossier Uses Influencer Marketing to Build a Cult Following

"At Glossier, something we've always stayed very true to, since pre-launch, day one, is that every single person is an influencer." – Emily Weiss, Founder and CEO 
Much like Glossier's invisible makeup mission, their advertising follows the same model. Rather than exclusively utilize influencers with millions of followers, Glossier identified 500 superfans who could be brand ambassadors. These customers who regularly buy Glossier products promote them on their own accounts in authentic, real ways. 
Micro-influencers often have a level of authenticity and relatability that can be hard to maintain as one's following grows exponentially. Although they don't have the same reach as larger influencers, these micro-influencers tend to be more trusted by their audiences.
Whether an influencer has 50 or 50K followers, their values and opinions are trusted within their social bubbles and communities. So when Glossier gets an endorsement from a brand ambassador's social media posts, that's the most powerful (and cheapest) advertising around.
Glossier's Spin on Experiential Marketing Brings New Life to Brick-and-Mortar
With roots in a beauty blog, Glossier started as an exclusively online brand. Today, the brand is still heavily focused on digital avenues, but has experimented with physical, real-world experiences in smart ways.
Glossier has flagship stores in only two major cities (New York City and Los Angeles), but has also launched limited-time pop ups around the world and sells products through retailers like Bloomingdale's, Sephora, and Ulta Beauty.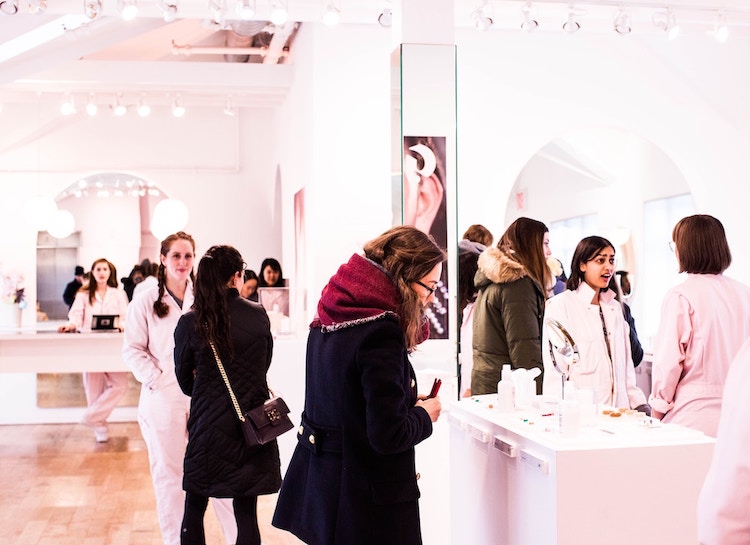 These offline and in-store experiences are meant to further engage Glossier's already existing digital community. Since people who visit the brick-and-mortar stores and pop-ups tend to already be familiar with the brand, the physical spaces can be about more than just showcasing products. Instead, these spaces are designed to enhance the shopping experience, encouraging shoppers to create personal social media content and bond with friends over the latest and greatest in skincare.
In 2018, Glossier partnered with (the now closed) Rhea's Cafe in San Francisco for a month-long event where customers ordered from a limited menu and got to try and buy hundreds of Glossier products. The company did a complete restaurant takeover with vanities on the wall and makeup brushes resting in delicate coffee cups.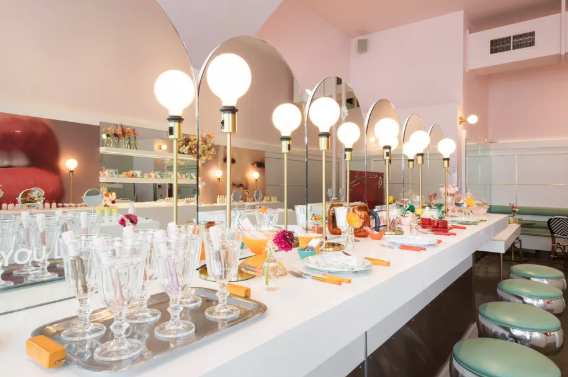 For a Boston pop-up in the Seaport neighborhood, Glossier rented out all nine of the freestanding micro shops in the retail village, assigning each boutique to a different line of product, including an entire room dedicated to perfecting your brows. 
For a Seattle pop-up, Glossier teamed up with landscape designer Lily Kwong to create an in-store experience with rolling hills and moss-covered mounds…and it was all real! The store was designed to reflect the juxtaposition of nature and city life in the community. Glossier's experiential marketing strategy focuses on making each pop-up unique to the environment it inhabits to reflect the lives of the people living in that area. 
The Proof is in the Milky Jelly Cleanser…
A strong digital presence is more important than ever for beauty brands, especially for connecting with millennial and Gen Z audiences. Glossier has found the perfect formula for generating trust from their consumers by having an approachable tone and garnering extensive earned media (and thus free advertising) from their devoted fans. Add these together with a strong social media presence and experiential events, and you've got a kick***, unstoppable brand. 
Younger audiences seek authenticity and memorable experiences, which is why we do what we do at CBC: integrated marketing campaigns that combine top-notch experiential marketing programs with a strong digital and social strategy for the brands we work with. 
Does your marketing strategy need a makeover? CBC can help you design and implement smart, integrated campaigns. Let's start the convo.