For our 10th annual Culinary House we invited top food and lifestyle media to sunny Sonoma, CA to experience the latest and greatest products from a variety of food, wine, and home appliance brands. Their task? To eat and drink until their hearts were content for three days straight.
I know, I know, this seems like a really tough assignment, especially if you're someone like me who plans her lunch while she's at breakfast and thinks about dinner while she's at lunch… anyone else? No? Just me?
To give you a glimpse into our wine 'n' dine marathon, let me take you through our Culinary House experience day by day (warning: you might want to grab a snack before reading any further…)
DAY 1
1:00pm: Not wasting any time, media hopped off the shuttle and enjoyed a delicious, yogurt-themed lunch at the house hosted by Stonyfield Organic and Blue Apron. Not only was the food amazing, showcasing yogurt's versatility beyond a morning snack, but it also included the most beautiful beet-infused yogurt dip we've ever seen.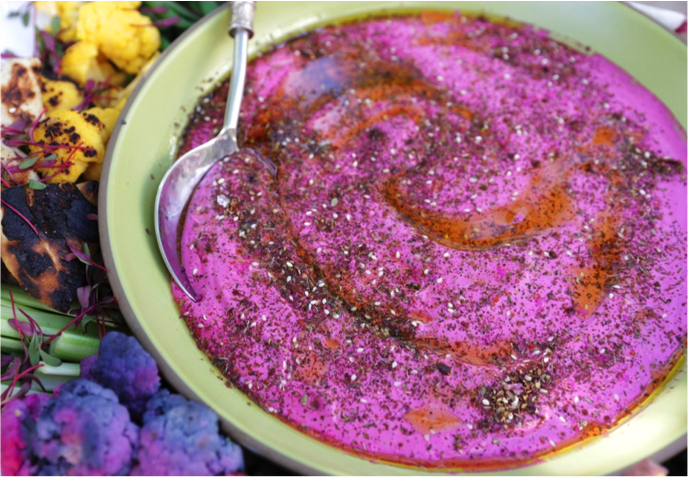 Food that tastes good, looks good and makes you feel good? Sign us up!
3:15pm: Following lunch, the group found their way to our epically-stocked fridge, wondering how to hydrate for the rest of the day. San Pellegrino sparkling water? Poland Spring still water? CBD tea from VYBES? This was a very tough decision to make, but everyone's thirst was quenched, and we persevered.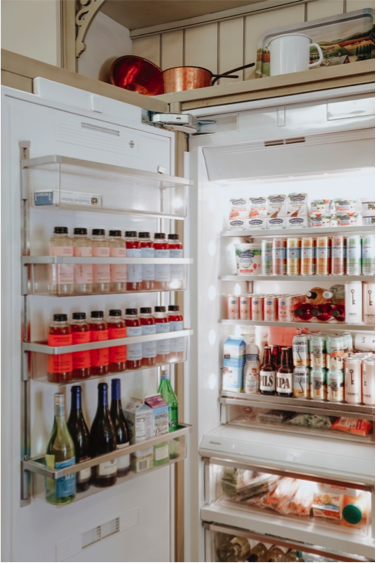 5:30pm: After some down time (literally, we all were so stuffed we needed to lay down to rest), the group mixed and mingled with brand representatives during our welcome cocktail hour. Featuring WineSociety rosé, Lagunitas brews, Ocean Spray Pink Cranberry Sangria, and a delicious charcuterie spread by Blue Apron, there was no shortage of options to snack and sip on while socializing.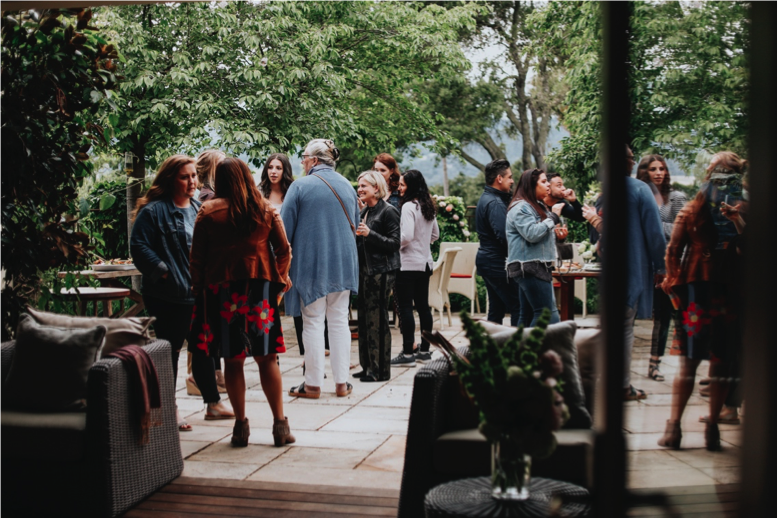 7:00pm: Following an afternoon full of pink dip and pink wine, the theme continued with an exquisite dinner featuring dishes prepared with Ocean Spray's Pink Cranberry juice. From shrimp ceviche to seared mahi mahi, who knew pink cranberry juice lends itself well to so many tasty recipes? Presentation was definitely not lacking here either. This dessert was almost too pretty to eat… almost.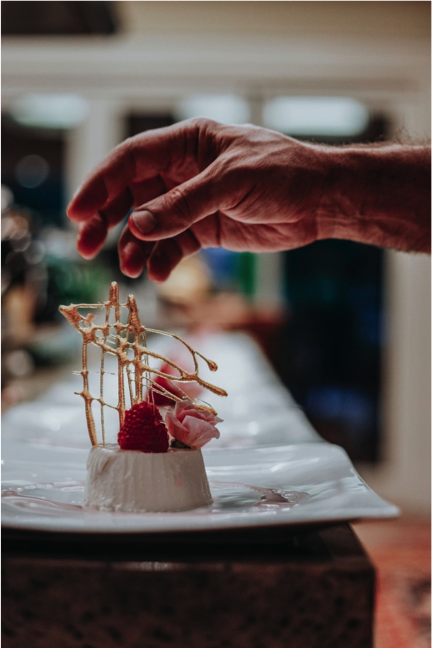 DAY 2
8:30am: We all stared at our bedroom ceilings and silently questioned whether we were ready for the eating and drinking adventures that awaited us…
9:00am: To kickstart day 2, Tea Forté led us through an authentic tea tasting, featuring their expansive collection of luxurious (and delicious) tea blends. Between the classics such as earl gray and chai, to more exotic blends such as bleu hibiscus and raspberry ganache, we had plenty of options to fuel our much-needed pick-me-up.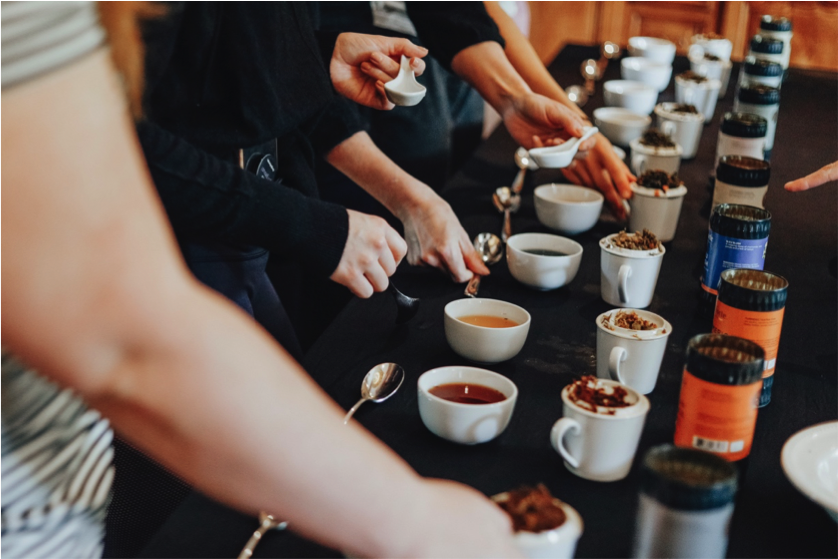 10:00am: Next on the agenda was an interactive breakfast with Calphalon. To work up an appetite, our knife skills were put to the test as we chopped and prepped our way towards the finished product. This proved to not be an easy feat after enjoying a mango mimosa on the veranda! With newfound skills and grumbling stomachs, we sat down to enjoy the delicious tarte everyone had worked hard to prepare.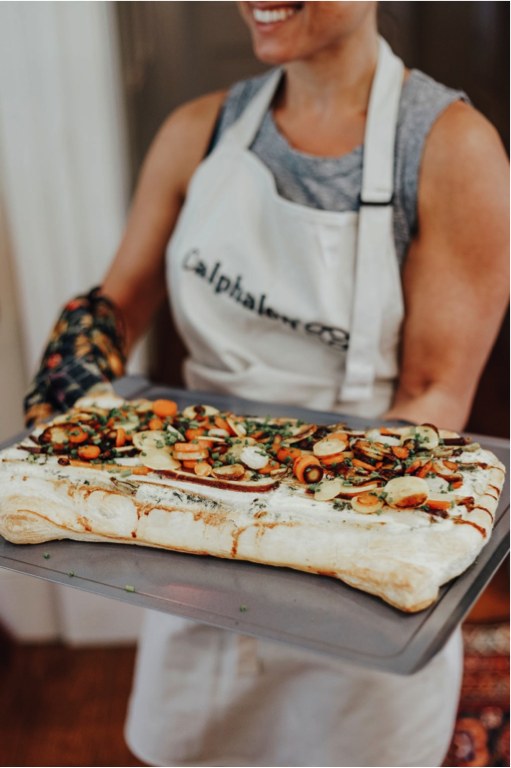 12:30pm: After we freshened up, we piled into our party bus to embark on our culinary journey for the rest of the day, complete with a cooler full of water…and wine.
1:00pm: Following a quick drive into downtown Sonoma, we were welcomed by the Wonderful Pistachios team at Ramekins Culinary School for a hands-on, pistachio-themed lunch activation. We put on our chef hats and teamed up to put together an epic spread including beet-cured deviled eggs, ricotta dumpling soup, and pistachio-crusted salmon. By the end of the class, we might not have been ready to open our own restaurant, but we sure were ready to chow down and eat the fruits of our labor.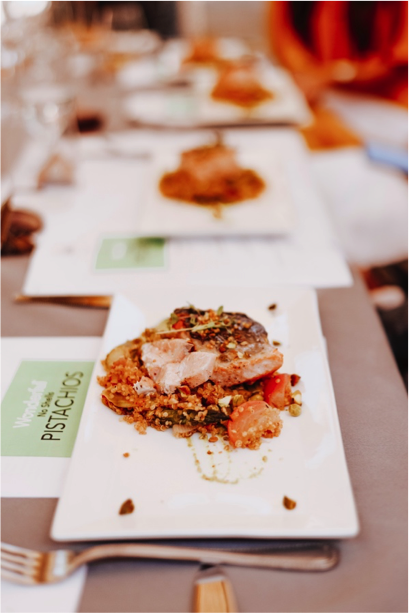 2:50pm: Wonderfully stuffed from lunch, we piled back into our bus and headed towards the Patz & Hall Sonoma House, making sure to drink some more water and prepare for more wine. Are you picking up on the theme yet?
3:00pm: We had hardly stepped off of the bus before we were handed a flute of Patz & Hall's inaugural vintage of sparkling wine – VIP much? The champagne had us feeling bubbly and ready for a tour of the vineyards before we were led through a very informative tasting of several varieties by James Hall himself.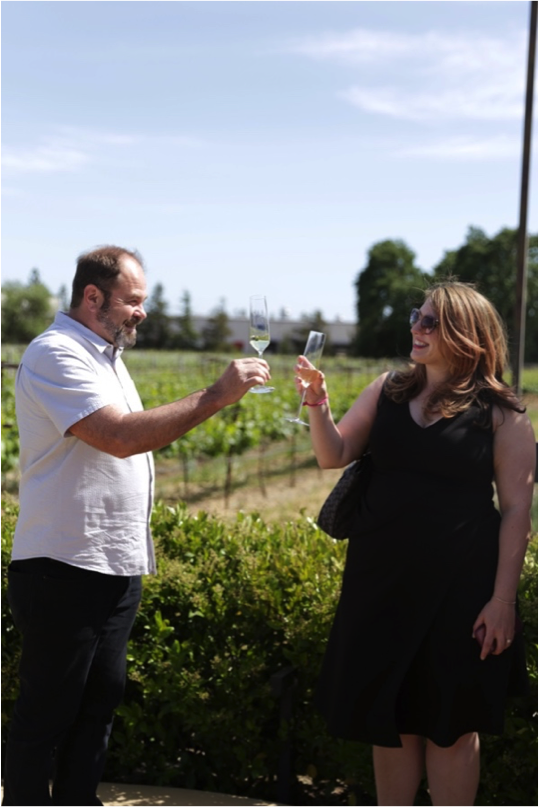 4:30pm: Feeling warm and fuzzy, we headed to the next stop on our culinary tour – the brand-new LG Showroom in Napa.
5:00pm: LG might be a tech company, but we were greeted by plenty of charcuterie and goodies to enjoy while we were guided through LG's new smart cooking tech (thank god, it had almost been 2 HOURS since our last bite of food.) During the tour, we discovered a valuable life hack – you don't need to be a good chef to enjoy food, you just need the right equipment. LG's impressive smart ovens and fridges had us hopeful for a future of homemade meals without the fuss.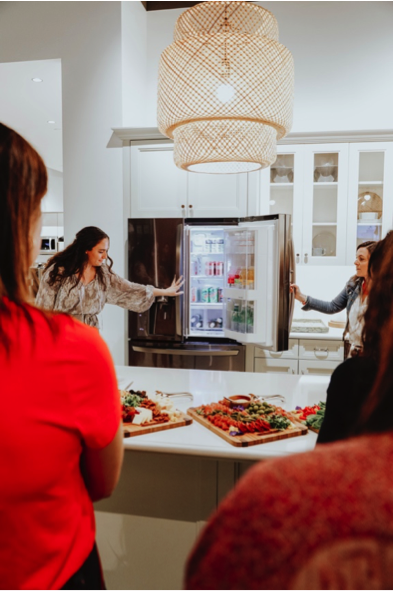 6:00pm: Ohhh no, did you think we forgot dessert today? After learning how to properly use convection bake (an important difference between regular bake!), we were challenged to a cupcake decorating contest. This is the type of competition that everyone wins.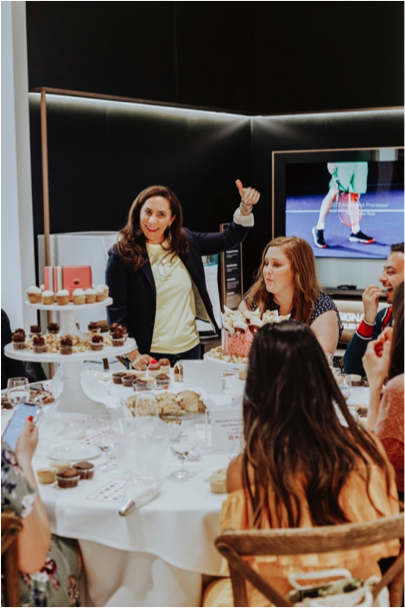 7:00pm: Next, we boarded the bus to enjoy a scenic ride through wine country as we jammed out to 90's music and, of course, refilled our wine glasses.
7:30pm: After a quick ride, our bus approached the rolling hills of Benziger Family Winery, and what a sight that was. Chris Benziger (and the family dog) took us on a gorgeous tour of the vineyard, known for producing some of the best biodynamic, sustainable wines in the region, and ultimately led us to the Benziger wine cave.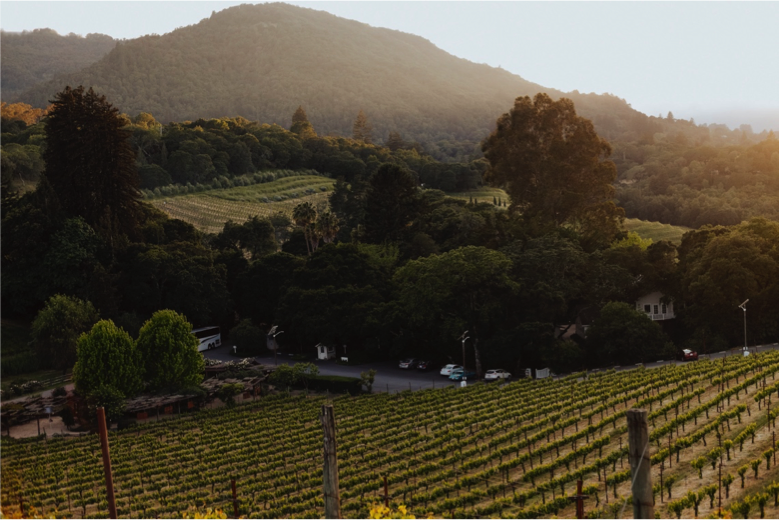 8:00pm: "Trapped" in a wine bunker surrounded by barrels and barrels of aging wine, we enjoyed a private Italian dinner with Stonewall Kitchen. Each course featured their gourmet products and was paired with a specially curated Benziger Family Wine varietal.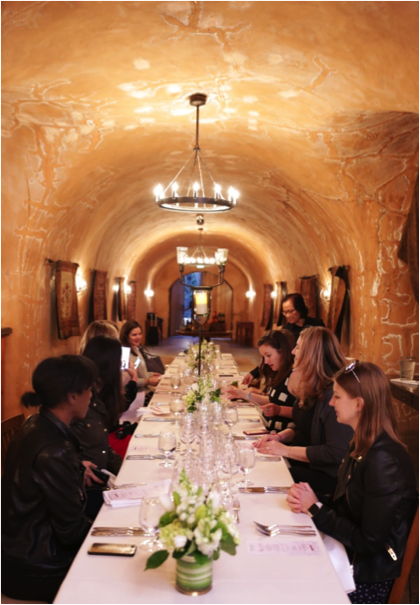 10:00pm: As we crossed the finish line of our culinary marathon, we arrived back at the house, popped a few Tums, and drifted off into a deep, wine- and cheese-induced slumber.
DAY 3
8:30am: On the last day, we hopped rolled out of bed and onto our yoga mats. As we reflected on the past two days, we prepared ourselves to close out the experience and travel home.
8:45am: Namaste in Sonoma forever.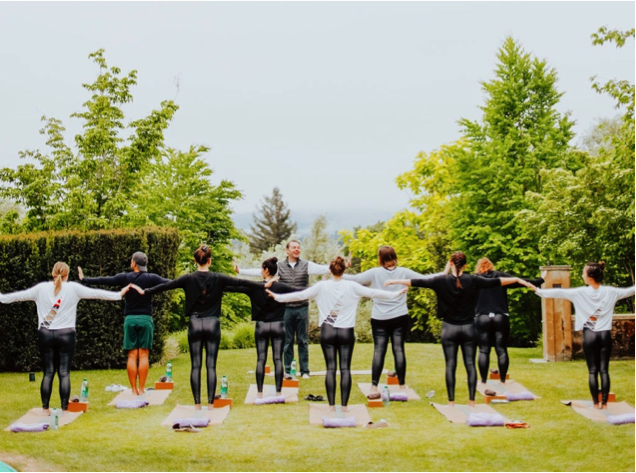 9:30am: Somehow, we managed to find room for one more meal after two full days of indulgence. Dole's new Spoonable Smoothies were served as a guilt-free and refreshing snack.
10:00am: To conclude our morning of reflection and frozen fruit smoothies, we ended things on a super relaxing note as we were treated to foot massages and pedicures, because treating yourself should be a full-time job.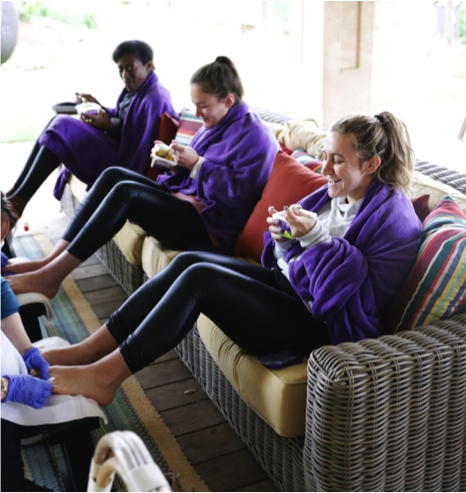 12:00pm: With happy (and full) tummies, the group packed up, raided the pantry and fridge one last time, and headed back to the airport relaxed and ready to return to reality.
12:30pm: Everyone started hydrating for next year's Culinary House.
Hungry for more? Check out our Instagram and #CBCCulinaryHouse. See you next year, Sonoma!
CBC's award-winning experiential PR programs are a seamless way for top national media and influencers to experience many brands under one roof in idyllic settings ranging from Santa Barbara to Nantucket. At each of our HOUSE Programs we create unique immersive experiences to highlight and tell the true story of your brand.  
Are you a brand interested in joining one of our HOUSE programs? Get in touch today!
https://cerconebrown.com/wp-content/uploads/Culinary-House-Calphalon-Breakfast.png
768
511
cbc08
https://cerconebrown.com/wp-content/uploads/logo-png-300x300.png
cbc08
2019-06-06 10:06:26
2019-06-06 10:08:02
Culinary House 2019: Food, Water, Wine, Repeat