Instagram Shopping: A Game-Changer for Tech-Savvy Ecommerce Brands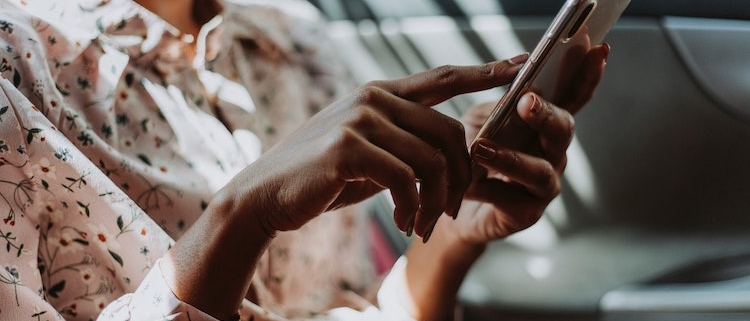 For many of us, it's nearly impossible to imagine a world without Instagram. When the app debuted in 2010, it was a fun, simple platform for people to edit their pictures (remember those filters and frames?!) and share them with friends and family. Since then, it has evolved into a multi-billion dollar platform that has come to define an entire generation.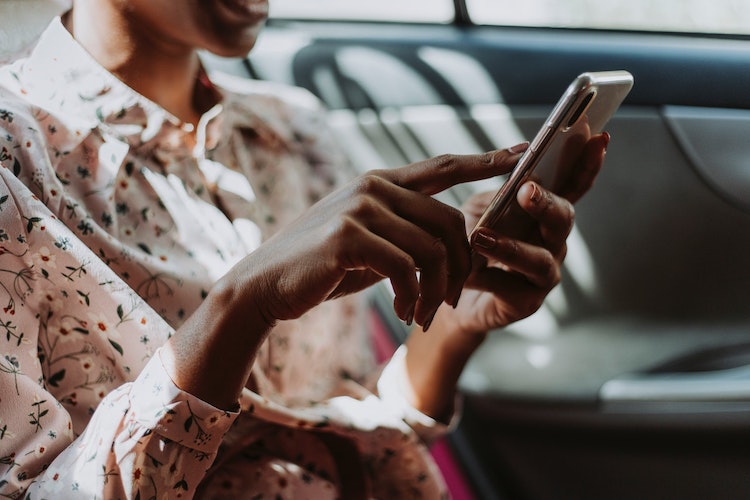 Instagram is no longer just a place for amateur photographers to share their pictures, but an essential business tool for brands. Earlier this year, Instagram launched the newest addition to its shoppable posts: an in-app checkout feature. The new feature allows companies to transform their feeds into a virtual storefront. When customers tap on a product tag in a post, they can view a product description page where they can purchase the item — all without ever leaving the app.
The Psychology Behind Instagram's Shopping Feature
A consumer's Instagram feed has become a way for them to virtually window-shop, perusing the product-filled feeds of both brands and influencers. If a particular item catches a user's eye, there are a few different ways they could engage with the brand: like the post, follow the account, or maybe click through to a link in the account's bio. 
But until now, there was no easy way to directly, immediately purchase a product. There was no guarantee that users would put in the extra time and effort needed to get more information about a product and actually go through with buying it.
By adding Instagram shopping tags directly to a post, brands can now take advantage of a customer's desire for a product in the moment. Taking out extra steps in the buying process means instant gratification for the customer and an easy sale for the brand.
Native shopping on Instagram is a win-win-win scenario for customers, brands, and even Instagram itself. From the brand side of things, in-app shopping helps retail companies provide a more seamless customer experience. Removing friction from the buying process leads to happier customers, and happy customers spend more and buy more often.
As for Instagram, keep in mind that social media platforms are greedy and don't want users to leave the app. Features that keep users consuming content longer and engaging more frequently are good for Instagram. And that's not even to mention that adding ecommerce functionality to the platform opens up a whole new revenue stream for Instagram.
How Revolve is Killing the Instagram Shopping Game
When asked about Instagram's business strategy moving forward, head of Instagram Adam Mosseri said features like native in-app checkout will help "connect the dots thoughtfully" between shoppers, sellers, and influencers. 
One company that does this seamlessly is clothing brand Revolve. The Los Angeles-based e-commerce brand is a staple among Instagram "it girls" worldwide and has amassed a following of over 3.3 million that continues to grow.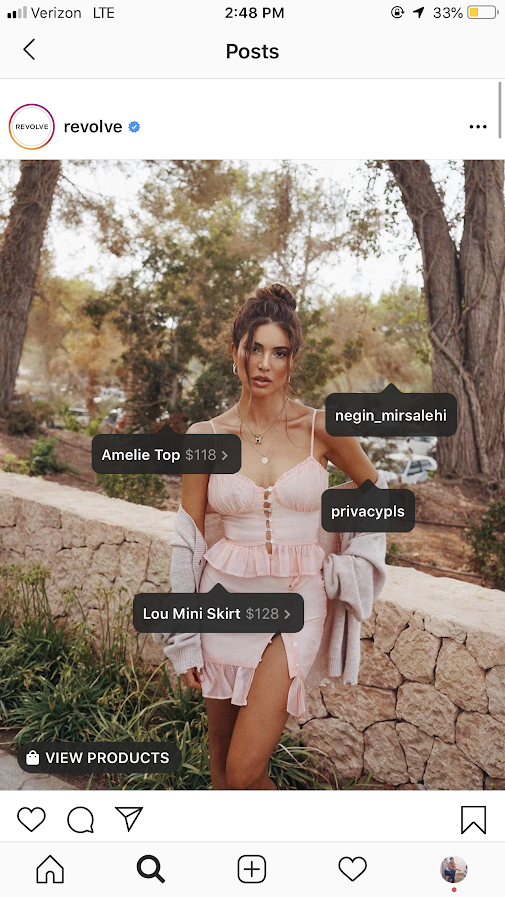 Revolve uses the power of their influencer ambassadors and a data-driven business model to tap into their target audience of Millennial women. 
Instagram launched its "Checkout with Instagram" feature in March 2019 as a closed beta test with around 20 partner brands, including Revolve. As an internet-born brand, it was only natural for Revolve to be on the vanguard of the new Instagram shopping feature.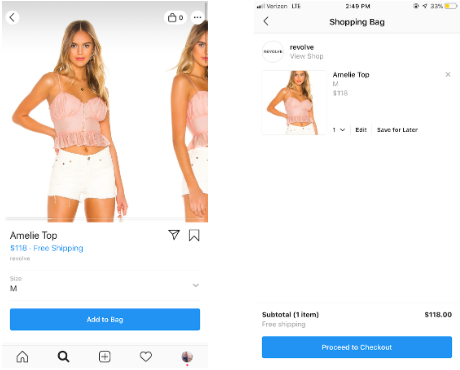 Ryan Pabelona, Director of Performance Marketing at Revolve, shared his enthusiasm for the frictionless shopping experience, which helps the company "better serve our millennially minded audience by providing a new, fast and easy purchase method on a platform where they are already engaging with our content and discovering our products."

Using Instagram Shopping to Transform Content into Revenue
Here at Cercone Brown Company, we are excited to see how this Instagram shopping feature can help brands sell better and smarter by meeting shoppers where they're already at. Social media content can now impact ROI more directly than ever for ecommerce brands, transforming content into major dollar signs.
As a next step, we'd love to see Instagram extend the feature to influencer posts as well. For now, influencers aren't able to use shoppable tags for the products they're promoting, and instead can only tag the brand's Instagram account. Enabling brands to combine the power of influencer marketing with easy in-app shopping could make Instagram an even more valuable tool for ecommerce marketers. 
Ready to up your Instagram game? Talk to CBC's social media marketing experts to learn how your brand can use the platform to sell better and smarter.
https://cerconebrown.com/wp-content/uploads/mobile-phone-shopping.jpg
500
750
cbc08
https://cerconebrown.com/wp-content/uploads/logo-png-300x300.png
cbc08
2019-09-24 10:09:42
2020-01-07 13:04:35
Instagram Shopping: A Game-Changer for Tech-Savvy Ecommerce Brands