4 Expert Tips for Brand Marketers During the Coronavirus Crisis
With the global coronavirus pandemic, we have entered an unprecedented time of public health concerns and social isolation. We understand that many brand marketers feel completely overwhelmed, wondering if, when, and how to talk to consumers during this crisis. It's a sensitive time, but also not a time to go completely dark. To help marketers navigate these uncharted waters, we have aggregated our top tips from industry experts that address marketers' most pressing questions.
1. Watch Tone and Messaging
Be real. Be human. Be honest. You are talking to people who are scared for their health, their jobs, and their families. "Successful brands will take into account what the mind-set is and what everyone's feeling…brands that act like nothing has happened and continue to move forward – people won't connect with that brand," reports Women's Wear Daily.
When it comes to media relations, brands should be speaking to the press in the same way they would a customer. A recent memo created for Weber Shandwick's Global team, which was leaked and picked up by Business Insider, says "Empathize: Treat media like the people they are. Like all of us, they are changing the way they live and work during this unusual time."
Ask editors "How are you?" and other sincere questions you'd ask a customer, such as how they prefer to work during this unprecedented time and what kind of information they need. An empathetic approach might not grant you immediate coverage, but is critical to building strong, long-term relationships that will position you positively in the future.
When it comes to advertising, a recent AdWeek article says, "Simply consider being a human and transparent brand. No one may care about how beautiful your creative is right now. Instead offer useful messaging like one-hour delivery, meal and safety planning and provide value added services like discounts to online classes and entertainment."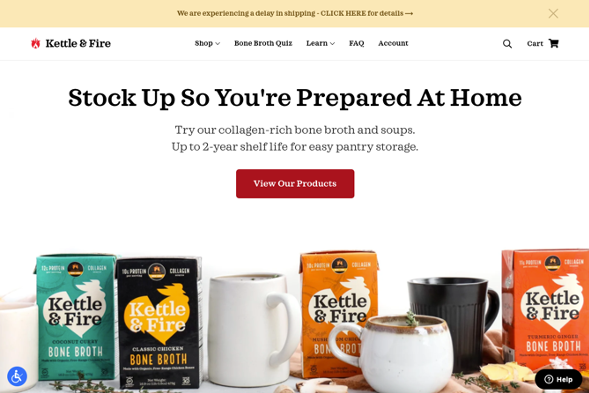 Take Kettle & Fire, a bone broth brand, as a prime example. They realized people are looking for information around staple pantry products.  So, they updated their homepage with the message: "Stock Up So You're Prepared at Home. Try our collagen-rich bone broth and soups. Up to 2-year shelf life for easy pantry storage."
Other effective but empathetic advertising messages could look as simple as "free delivery" or as sophisticated as a charitable initiative, which is the case for many clothing and industrial brands who are shifting their production to help alleviate the protective mask and ventilator shortages facing hospitals nationwide.
On social media, email, and other digital marketing channels, provide something consumers actually need. What do most consumers need during this time? Information, a sense of purpose, and comforting content that can lift spirits.
One approach is to make a commitment to doing good in the community, and share the heart-warming news with your followers. For example, Crocs announced on social media that the company is providing free shoes to healthcare workers.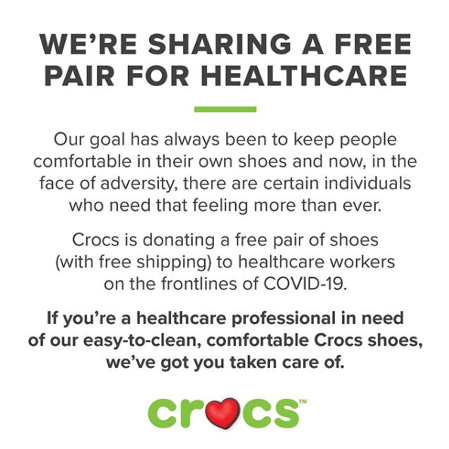 Another great example of a brand using social media to help consumers is from the company Great Jones, an online-only shop of branded cookery. They announced on social media they'd be extending the hours of their text hotline, "Potline," to help people with recipes and cooking advice at home.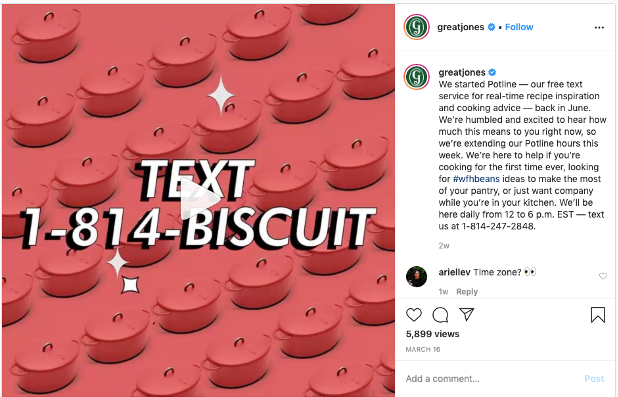 Despite containing no mention of the coronavirus, Great Jones products, or any sort of "special promotion," their Potline posts consistently garner strong engagement, demonstrating the impact of a human-first approach to marketing.
2. Don't Be Opportunistic
Fifty-six percent of consumers are happy to hear how brands are helping out communities in response to the coronavirus pandemic, according to a survey of 1,000 consumers conducted on March 18 by the American Association of Advertising Agencies (4A's) and real-time market research platform Suzy.
But, as many experts are stressing, don't be opportunistic. Now is not the time to be pushing "coronavirus sales" or "shop online to pass the time" marketing messages.  The most important thing a brand can do during this time is be helpful.
Twitter Next global head Alex Josephson and director for Europe, the Middle East and Africa Eimear Lambe stressed in a blog post Wednesday, "let's be clear: This is not a 'marketing opportunity' to capitalize on, and we do not recommend brands opportunistically linking themselves to a health scare." Erik Gordon, Professor of Marketing and Business at the University of Michigan, offered similar sentiments explaining: "If a brand links itself to the pandemic, that link may lead to an unconscious aversion to the brand, even if the details of the link are that the brand claimed it was doing something positive."
For those pitching the press, don't try to hijack the news to get increased brand mentions. As AdWeek says, "only 1% of people will get it right while the other 99% will get it wrong and suffer irreparable brand damage. The risk of negative brand association is far greater than the upside of a positive brand association."
"According to Ipsos MORI, 50% of Chinese and 31% of Italian consumers say they're shopping online 'more frequently' to purchase products they'd usually buy in-store. Other countries such as Vietnam, India and Russia have also seen their populations turning to ecommerce more often to shop – with increase of use measured at 57%, 55% and 27% respectively," reports Internet Retailing.
We expect to see the same increase in the U.S. So, it's important for brands to think of ways to engage with customers online.
Video is one great way to engage with your web visitors and social media followers. While you may want to avoid featuring videos with multiple people during this time of social distancing, consider filming heartfelt messages from employees of your company sharing ways they are coping and ideas for their customers.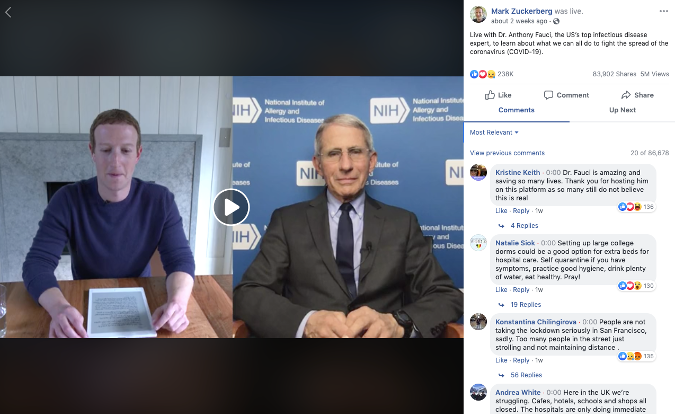 On a large scale, Facebook held a livestream interview with CEO Mark Zuckerberg and the Director of the National Institute of Allergies and Infectious Diseases, Anthony Fauci, providing 5 million viewers with clear information regarding COVID-19. For Facebook, this was an opportunity to show users its information services capabilities while providing support.
Engagement is especially paramount on social media, where human-centered messaging has always beat corporate jargon. Much of the world is staying connected through social channels, and brands aren't exempt. Women's Wear Daily says "social media is a place where people and designers can be more personal. A meaningful, personal message can lift spirits, for example Pierpaolo Piccioli standing strong for Italy. Personal connections are better at these times than corporate speak, which almost always reads as commercial."
Now is also the time to increase customer service across all channels. As quarantines stall or halt normal operations for many businesses, keeping customers up to date on the current status of business and being available to answer questions will go a long way to maintaining customer loyalty.
Lastly, remember that people are feeling isolated. While words are important, connecting visually is also important. There is something about seeing, hearing, and having conversations with a human being that makes us feel more connected. As SEO firm IMPACT said recently, "be that resource your audience can look to during these scary times. Capitalize on video, because it is the most powerful content medium on the planet for building trust, developing human connections, and closing more deals faster."
Travel and hospitality are two industries most affected by this pandemic. HSMAI, The Hospitality Sales and Marketing Association International reminds everyone in a blog post that, "for those destinations and industries directly impacted with cases and possible outbreaks, post-COVID-19 marketing planning and activity will be imperative to attract customers back."
Whether that is shifting existing plans to a later date or planning against the months and seasons ahead, we are seeing many brands, including our own clients, continue to plan with an open execution date.
Furthermore, now's a great time to optimize your site and content. Prepare for the future time when regular business will resume and consumer spending will increase by ensuring your website content is SEO-optimized and stockpiling content for future publication.
Search Engine Journal emphasizes that "SEO and inbound marketing are a long game […] so this is the time to stay the course and tackle all of those potentially impactful SEO and marketing tasks you've had on your back burner." If you get ahead on your content marketing projects while your competitors fall behind, you will be setting your business up for faster recovery once the crisis passes.
Our team at CBC understands that brand marketers are dealing with disrupted plans and so many unknowns. If we can take the pressure off of marketers, we are here to help. Even with many people around the world in quarantine, we are actively working with brands every day.
Curious as to what our clients are doing in the midst of COVID-19 challenges?  Here are ways in which we are helping our current clients right now:
Building up a bank of content using our unique "Content With a Purpose" platform.
Researching consumer sentiment in other countries who are weeks ahead of us so we know what kind of content will feel right in the U.S. two weeks from now and beyond.
Creating and editing content remotely, ensuring the tone is right from the perspective of both your brand and your consumers.
We also have deep relationships with press and are constantly checking in to see how they are doing, and what kinds of pitches they are open to receiving.
Helping clients shift to digital. Last week, we kicked off Primark's Wellness From Home series, pivoting from an in-store event to Instagram Live.
We are also helping Coravin foster community among their Instagram audience through "Wine O'Clock," a virtual wine tasting with Coravin's founder every Tuesday and Thursday.
Additionally, we're working with B2B client Aprinnova to host a weekly thought leadership webinar, "The Future of Clean Visionaries," every Wednesday to help them continue to connect with clients and prospects remotely.
In everything we approach, we're being mindful of what consumers are open to hearing and are ensuring that our agency and clients are being human in everything we do.
For more guidance on how to tackle brand marketing (during a crisis or otherwise!), reach out to the expert team at CBC and let us know how we can help.